Skip the Line & Donate Online
Donate directly to the Giving Machines KC charities on their websites and indicate that your donation is related to the Giving Machines. Here's how it works: (Note, credit and debit transaction fees apply.)
Click on a charity link below
Complete their online form
Indicate that your donation is related to the Giving Machines as instructed below
Pay by credit card or other options as offered on their website
Be happy knowing you helped Light the World!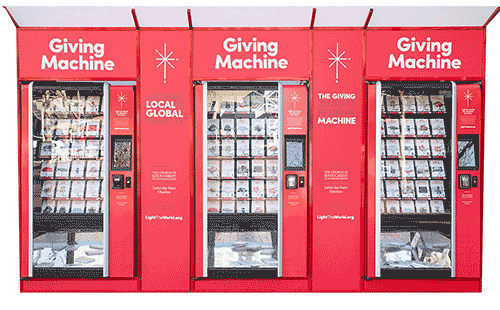 Visit the Giving Machines!
Nov 16, 2022 – Jan 2, 2023
The Mayor's Christmas Tree Association benefits senior citizens, persons with disabilities and children each year with gift cards, Christmas gifts and holiday parties that are hosted by the Parks Department to help alleviate some cost concerns as our fellow Kansas Citians celebrate the holidays with friends and family.
Select a Payment Category of "Mayor's Christmas Tree"
Enter "[your name] – Giving Machines" in the "Donor Name" field
Children's Mercy is the only children's hospital in the region, providing expert care to kids through more than 500,000 visits each year. Children's Mercy believes every kid has amazing potential. This potential inspires them to offer more leading specialties, to research game-changing innovations, and to provide only the most compassionate, comprehensive care.
Enter "Giving Machine" in the "Other designation:" box
KC Shepherd's Center provides programs, leadership and advocacy to help both active and homebound older adults live healthy, engaged and independent lives. Whether you're looking for opportunities for yourself, a loved one, a neighbor, a friend, or a client, KC Shepherd's Center is here to help you connect with the programs and resources you need.
Enter "Giving Machines in the "Dedicate this Donation" box
Established in 1949 to help Holocaust survivors, refugees and those returning from WWII, Jewish Vocational Service continues to invest in individuals and families – helping them build better lives in the United States for 70 years and counting. Rooted in our core value that all people have intrinsic worth and dignity, we engage, encourage and empower people to achieve social, cultural and economic integration in the Greater Kansas City metro area.
Enter "via Giving Machines" in the "Comments" box
The mission of Reconciliation Services is to cultivate a community seeking reconciliation to transform Troost from a dividing line into a gathering place. Our innovative approach to community healing seeks racial and economic reconciliation one heart at a time, through strengths-based healthy community initiatives, social and mental health services, and the creation of economic opportunities.
Enter "Giving Machines" in the "Comments" box
In many societies in Africa, it is believed that education is a venture that primarily should be sought by men. It is believed that the value of a woman lies in her capacity to cater for the chores in the household and no more than that.

African Girls Hope Foundation seeks to eradicate this ideology by empowering the African Girl and equipping her with the tools to create for herself a bright future . . .
Enter "A donor from GMKC" in the "Write us a Comment" box
The Charity below will allow online donations but unfortunately at this time will not be linked to the Giving Machines.

UNHCR, the UN Refugee Agency, is a global organization dedicated to saving lives, protecting rights and building a better future for refugees, forcibly displaced communities and stateless people.
UNHCR works to ensure that everybody has the right to seek asylum and find safe refuge, having fled violence, persecution, war or disaster at home.

Since 1950, UNHCR has faced multiple crises on multiple continents, and provided vital assistance to refugees, asylum-seekers, internally displaced and stateless people, many of whom have nobody left to turn to.

UNHCR helps to save lives and build better futures for millions forced from home.
Enter "Giving Machines" in the "Comments" box