What are the Giving Machines?
Giving Machines are an easy way for people to perform an instant act of service!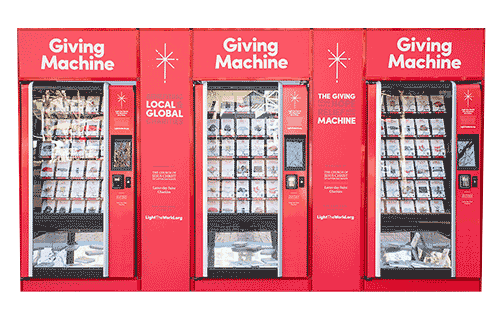 How Do the Giving Machines Work?
Each of the Giving Machines is identical, so choose any machine and see the local and global giving opportunities. From a healthy lunch to helping pay utility bills to a toy for a child, there's something in every price range.
Each machine accepts credit cards and mobile payments, so swipe away! Sorry, no cash payments can be accepted.
Enter a phone number or email address to receive a digital receipt. One hundred percent of your donation will go to the applicable charity.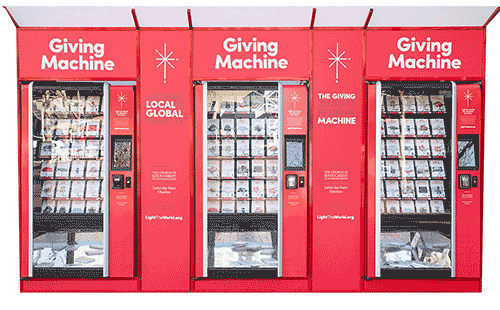 Visit the Giving Machines!
Nov 16, 2022 – Jan 2, 2023
Frequently Asked Questions
What are Giving Machines?
Giving machines are vending machines that are all about the experience of giving instead of buying something to satisfy your own immediate need. You can buy chickens or goats to help families around the world or school supplies to help children right here in Kansas City. Items start at $7 and go up to $300, so everyone can have the experience of giving on any budget. After inserting a credit or debit card or tapping digital payment (no cash), a card with a picture of your item drops into a collection bin and you walk away with a digital receipt and a smile for days.
Here in Kansas City, the charities we are supporting this year are Mayor's Christmas Tree Association, Children's Mercy Hospital, KC Shepherd's Center, Jewish Vocational Service, Reconciliation Services and Veterans Community Project. In addition, you'll find items benefiting two worldwide charities: UNHCR and African Girls Hope Foundation.
One hundred percent of your donation will go to the charity of your choice. All of our charities have committed to use your donation to buy the actual item you purchased (or something in a similar category if unavailable). The credit card fees are covered by The Church of Jesus Christ of Latter-day Saints so you can be sure that your money is going directly to people in need.
When will they be available?
-- UPDATE --
The Giving Machines will be extended ONE MORE DAY, until Monday, January 2, 2023!

The Giving Machines are a seasonal experience that runs during Christmastime as part of #LightTheWorld. The Giving Machines will be available in Kansas City from November 16, 2022 until January 1, 2023.
The Giving Machines will once again be located at Crown Center Square. Look for them below the Ice Terrace, near the entrance to Sea Life Aquarium and Legoland.
Crown Center Square
2450 Grand Blvd, Kansas City, MO 64108.
What can I expect when I get there?
After you park, go on out to the plaza where you'll see the Mayor's Christmas Tree in the center and the Giving Machines off to the side. Make your purchase at the giving machines and have someone with a phone ready to capture the giant smile you'll walk away with as you leave a physical reminder of your purchase in the bin at the bottom of the machine. Share your experience if you can! #givingmachineskc  
Volunteers will be available during most business hours if you need help figuring out how the machines work, to take your family's picture, or to answer any questions.
Absolutely! You can make a donation online to the
organizations participating
in this year's program by visiting their page and making a donation online in support of Light The World.
What methods of payment are accepted?
Credit and debit cards as well as mobile wallet options, such as Apple Pay and Android pay, are the only methods of payment accepted at the Giving Machines.
What items or charities need the most donations?
The organizations featured in the Giving Machines represent a wide variety of global and local causes—all with pressing needs and the goal of helping people one by one. If you're wondering what you should donate, consider spending a bit of time learning about the charities before visiting the machines or donating online. You might find a cause or item that resonates with you. As you give that gift, remember that your donation is truly helping someone in need.
Can I donate on behalf of someone else?
Of course you can! Please
use this form
once you have made a donation on behalf of another party. We will also have on behalf of cards at the machines for your convenience.
I'm feeling inspired; how else can I get involved in #LightTheWorld?
History of Giving Machines
In 2017 the Giving Machines were born from an idea:
How can we make it easy for people to perform an instant act of service?



We'd love to hear from you!